Dosing Overview
HUMATE-P is labeled in VWF:RCo for dosing accuracy in VWD:
Treatment of bleeding episodes:

Administer 40-80 IU VWF:RCo per kg body weight every

8-12

hours

Prevention of excessive bleeding during and after surgery:

Surgical dosing differs by type of surgery (ie, major, minor) and should be customized to patient need according to baseline and target levels of VWF:RCo and FVIII

In emergency situations, administer a loading dose of 50 to 60 International Units (IU) VWF:RCo/kg body weight and, subsequently, closely monitor the patient's trough coagulation factor levels

Please see Dosage and Administration in the full Prescribing Information
Use our Dosing Calculator to make individual dosing fast, easy, and convenient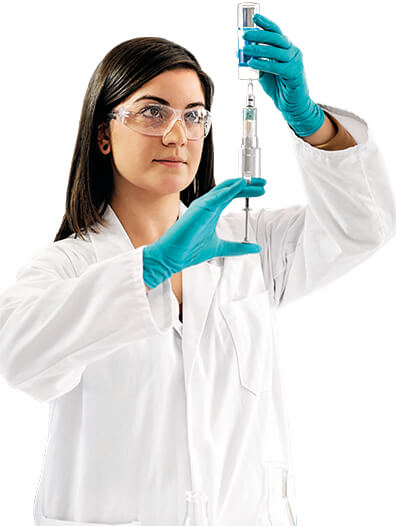 VWF:RCo and FVIII content identified and labeled for prescribing precision
With an average VWF:RCo to FVIII ratio of 2.4 to 1, HUMATE-P can successfully achieve therapeutic levels of VWF without raising FVIII to supernormal levels.
A variety of vial sizes
HUMATE-P is available in a range of vial sizes for convenient dosing, transportation, and storage.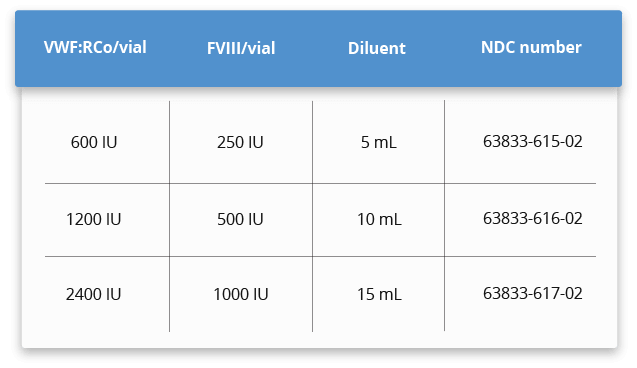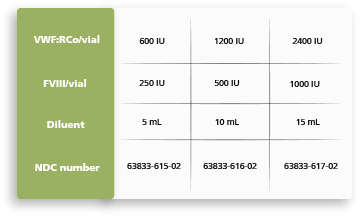 References
Lethagen S, Kyrle PA, Castaman G, Haertel S, Mannucci PM, for the Haemate P Surgical Study Group. von Willebrand factor/factor VIII concentrate (Haemate P) dosing based on pharmacokinetics: a prospective multicenter trial in elective surgery. J Thromb Haemost. 2007;5(7):1420-1430.
Lillicrap D, Poon M-C, Walker I, Xie F, Schwartz BA, and members of the Association of Hemophilia Clinic Directors of Canada. Efficacy and safety of the factor VIII/von Willebrand factor concentrate, Haemate-P/HUMATE-P: ristocetin cofactor unit dosing in patients with von Willebrand disease. Thromb Haemost. 2002;87(2):224-230.