Reimbursement
For your convenience, below are the NDC, HCPCS, ICD-10-CM and CPT reimbursement codes for HUMATE-P. This resource provides information from a complex and evolving medical coding system. The treating physician is solely responsible for diagnosis coding and determination of the appropriate ICD-10-CM codes that describe the patient's condition and are supported by the medical record. All codes listed in this guide are for informational purposes and are not an exhaustive list. The CPT, HCPCS, and ICD-10-CM codes provided are based on AMA or CMS guidelines. The billing party is solely responsible for coding of services (eg, CPT Coding). Because government and other third-party payor coding requirements change periodically, please verify current coding requirements directly with the payor being billed.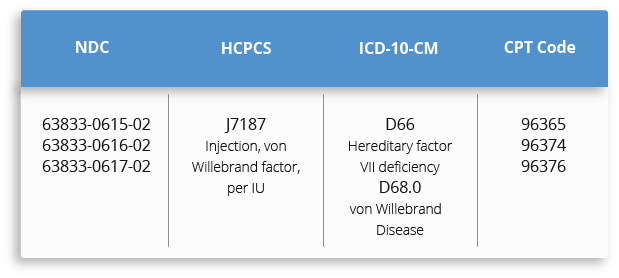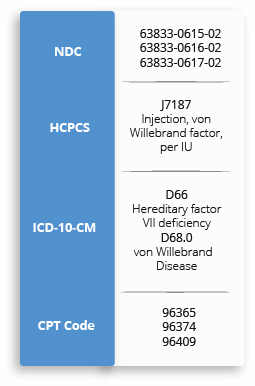 When billing for Humate-P, remember to:
Bill Humate-P by the Ristocetin co-factor units (not factor VIII units)

Bill for every Ristocetin co-factor unit printed on the carton or vial (not the assay size)
Failure to confirm specific third-party payor coding requirements may result in underpayment for Humate-P.

Call 1-800-676-4266 for information on insurance matters or assistance with individual case inquiries on a variety of reimbursement services, including:
claim processing reviews

appeals

insurance investigations into product coverage

prior approvals for therapies authorization
You can also write to:
CSL Behring
1020 First Avenue
P.O. Box 61501
King of Prussia, PA 19406-0901